Menu
Home
Calendar
FAQ
Glossary
Membership
Newsletter
Other Links
Photos
Traditional Walks
Year Round Walks

California Volkssport Association


American Volkssport Association


International Volkssport Association
REGULAR MEMBERSHIP MEETINGS:
1st Monday each month (Except February)
7:00 pm.

Meetings are held in the cafeteria conference room
Vaca Valley Hospital,
1000 Nut Tree Rd
Vacaville.

Next monthly meeting: June 6, 2016
Minutes on Membership page

Do you enjoy walking for exercise or pleasure? Do you like being outdoors, seeing new places and meeting nice people? If so, volkssporting may be for you. The Vaca Valley Volks Walking Club, Vacaville, California was formed in 1986 to sponsor and promote volkssporting in the local area. Volkssporting events include walking, biking, swimming and cross country skiing. The majority of the events are walks and are called "volksmarch" - a people's walk.

A volksmarch is non-competitive and is for singles or the whole family (even the dog at many events).

It is an adventure in health, recreation, fellowship and fun. It is not a contest of speed or endurance. Participants do the walk at their own pace but must complete the event before the finish time. All of our events are sanctioned by the American Volkssport Association (AVA).

In general, there are two types of walks, Scheduled Events and Year Round Events:
Traditional Events - Larger, one time events planned and sponsored by a local chapter, which coordinates setting up and marking the walk/ride and manning registration tables. Vacavolks sponsored scheduled events can be found on the Calendar Page, and all California scheduled events can be found on the American Volkssports Association web site
Year Round Events (YRE) - Usually done by individuals or small groups, these are events that can be done any time for credit. There is always a box or binder that is located in a store (usually) that has the walk directions, stamp(s), money envelope, and all the other materials necessary for the walker to self-register. Vacavolks sponsored YRE's can be found on the Year Rounds Page, and all California Year Round events can be found on the American Volkssports Association web site
Come Walk with Us!

MORE INFORMATION: If you are unfamiliar with volksmarching, or you want additional information, please visit our FAQ page or any of the links to the left. There is an excellent tutorial on the AVA web site.
TO JOIN: Membership is open to anyone who likes to walk and wants to promote volkssporting. Dues are $7.00 per year for single, or $14.00 per year for a family membership. Come to a meeting.
Items of Interest
Strategic Planning Committee Survey
Headquarters is in the middle of a Strategic Planning program to determine the futute of AVA. To that end, surveys were sent to individuals and clubs asking for information and ideas.The survey is now closed and the work begins. The Strategic Planning Committee is convening in Dallas, November 16-19, to analyze the data and continue with the planning. In all we had 1,793 individual walker surveys, 172 club surveys and 10 state organization surveys completed. Thank you again to everyone who participated in the Strategic Planning Surveys!
The Strategic Planning Committee Survey results are here:
Club Survey Summary and the Individual Survey Analysis.
Rosie the Riveter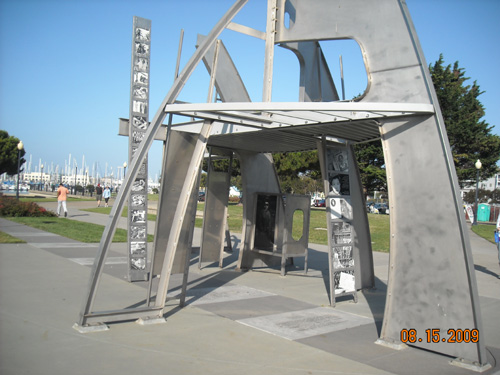 The "Rosie the Riveter" walk will be held at Richmond Marina Bay Park on May 16,17. Honoring the many women who built Liberty Ships and aircraft during WWII, the memorial has information on the women and an actual liberty ship, SS Red Oak Victory, on site. The memorial itself is the length of a Liberty ship with a form of the ship being built. The walk starts out at the memorial, then goes around the marina area to the docked Liberty ship, SS Red Oak Victory.